Accessing reimbursement, relief and funding programs at both the federal and state levels will require the complete and accurate accounting of costs related to COVID-19 by hospital and healthcare delivery systems.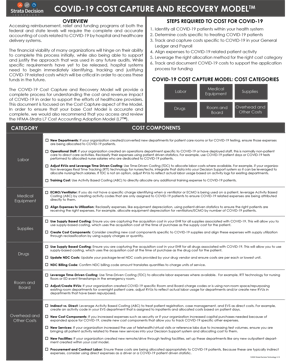 The financial viability of many organizations will hinge on their ability to complete this process initially, while also being able to support and justify the approach that was used in any future audits. While specific requirements have yet to be released, hospital systems need to begin immediately identifying, tracking, and justifying COVID-19 related costs which will be critical in order to access these funds in the future.
The COVID-19 Cost Capture and Recovery Model will provide a complete process for understanding the cost and revenue impact of COVID-19 in order to support the efforts of healthcare providers.
The model outlines 4 steps that organizations will be taking as they plan for the road to recovery from COVID-19.
Step 1: Understand Costs

Step 2: Capture Revenue

Step 3: Submit for Reimbursement

Step 4: Manage the Audit
Fill out the form below to download the COVID-19 Cost Capture Recovery Model: